Get your digital Waiver solution in minutes
PandaDoc Waivers allows you to create a smart electronic waiver that's legally valid in minutes — no special knowledge required.
Whether you need a general liability release form, homeowner liability waiver, medical waiver forms, or another kind of online waiver, PandaWaiver can provide it quickly and efficiently.
Try it out for yourself today for free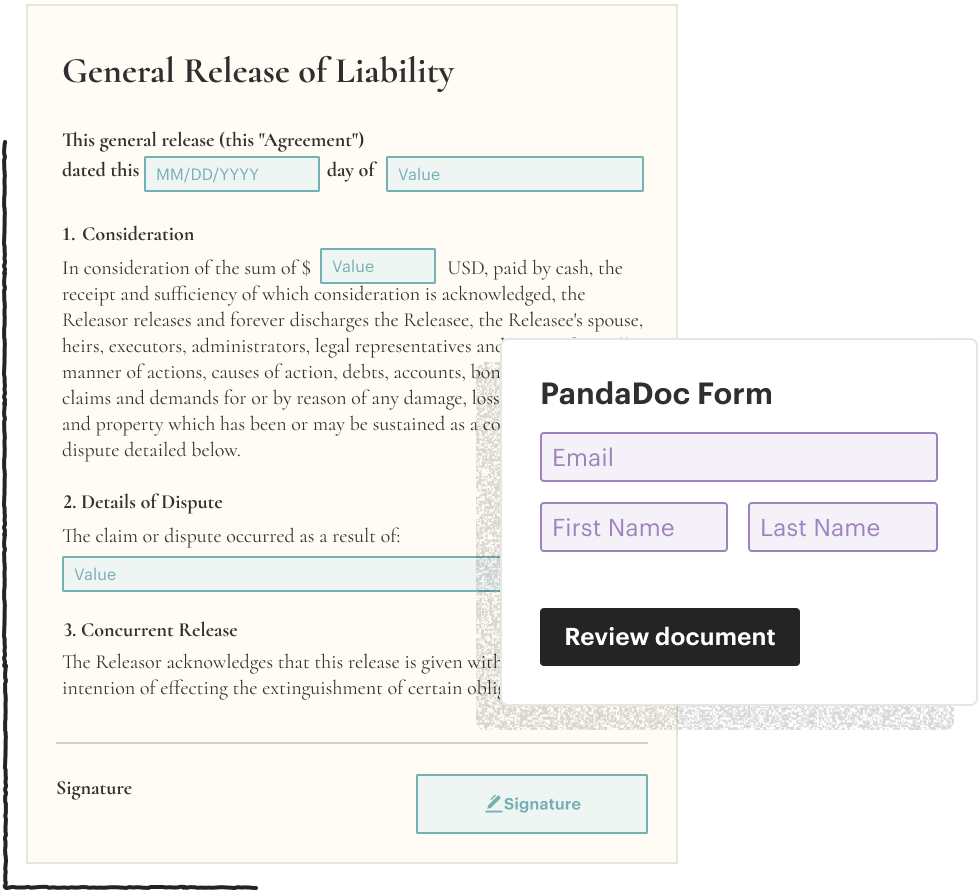 Professional Waiver Forms online — free
PandaDoc's waiver app delivers online waiver forms that are legally binding. Switch from paper waivers to a digital waiver collection and experience a faster, easier way to create legally valid waivers.
You won't have to worry about sorting through piles of paper and wasting time on inefficient systems to create a simple waiver of liability anymore. Meet PandaDoc Waivers — the fast, paperless, secure solution that makes generating waivers faster and easier for businesses and their customers alike.
Try it out for yourself today for free
Get your digital Waiver solution in minutes
PandaDoc Waivers allows you to create a smart electronic waiver that's legally valid in minutes — no special knowledge required.
Online signed waivers
Share the online digital waiver link
Sign from any device
Embed the link to the online waiver form on your website
Kiosk signed waivers
Arrange for signing at the entrance of an event or elsewhere
Sign in person on a kiosk stand
Sign on mobile or tablet
Mobile signed waivers
Enjoy seamless signing from anywhere
Sync all waivers to the cloud
Check into events quickly and scan driver's licenses
Fast setup, minimal maintenance
PandaDoc Waivers has every step of your waiver creation process covered with fast, professional, and hassle-free waiver online forms.
Simple from start to finish
It doesn't matter whether you're creating a simple liability release form or a car accident release of liability form — PandaDoc Waivers makes waiver form creation easy.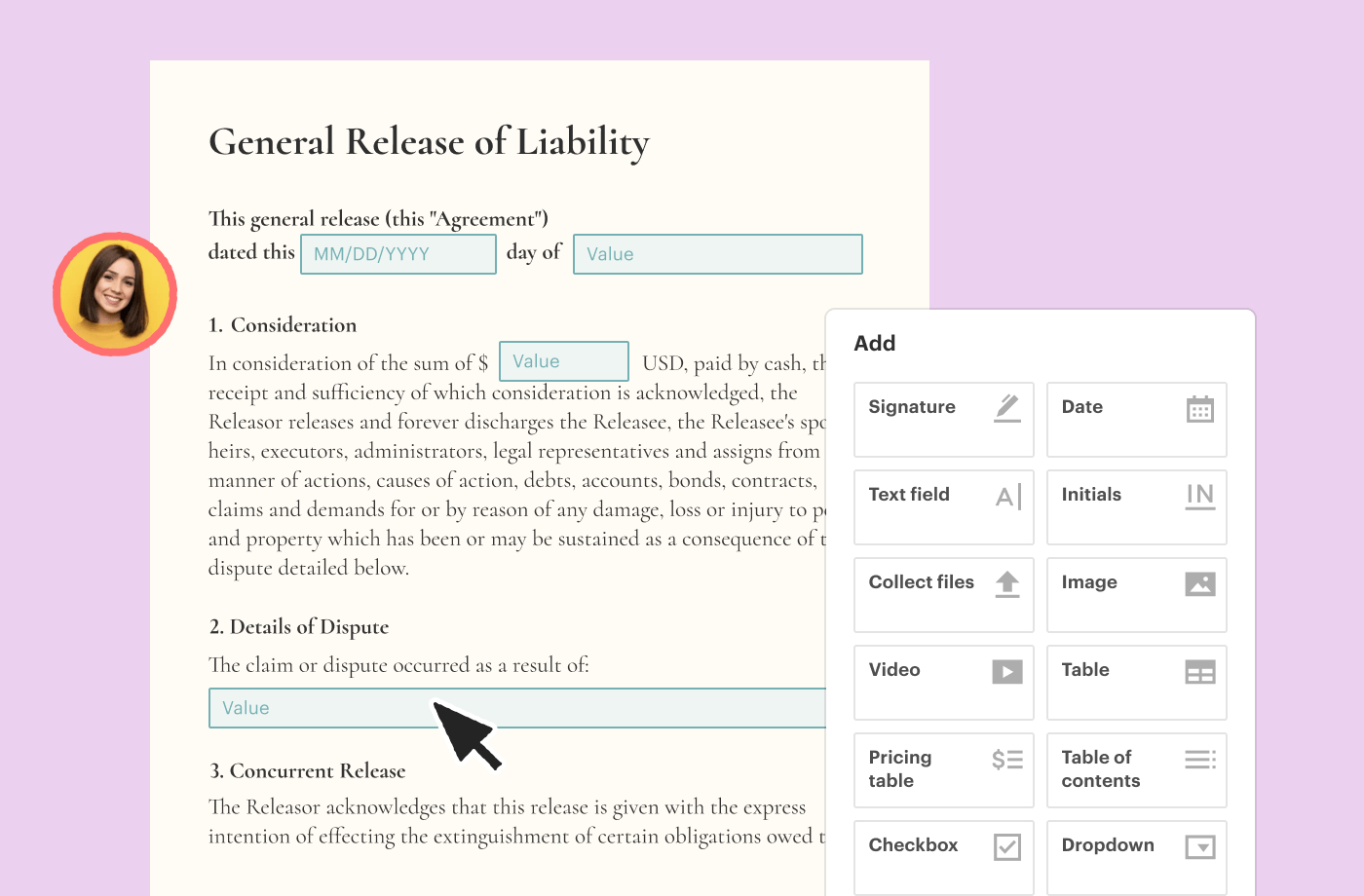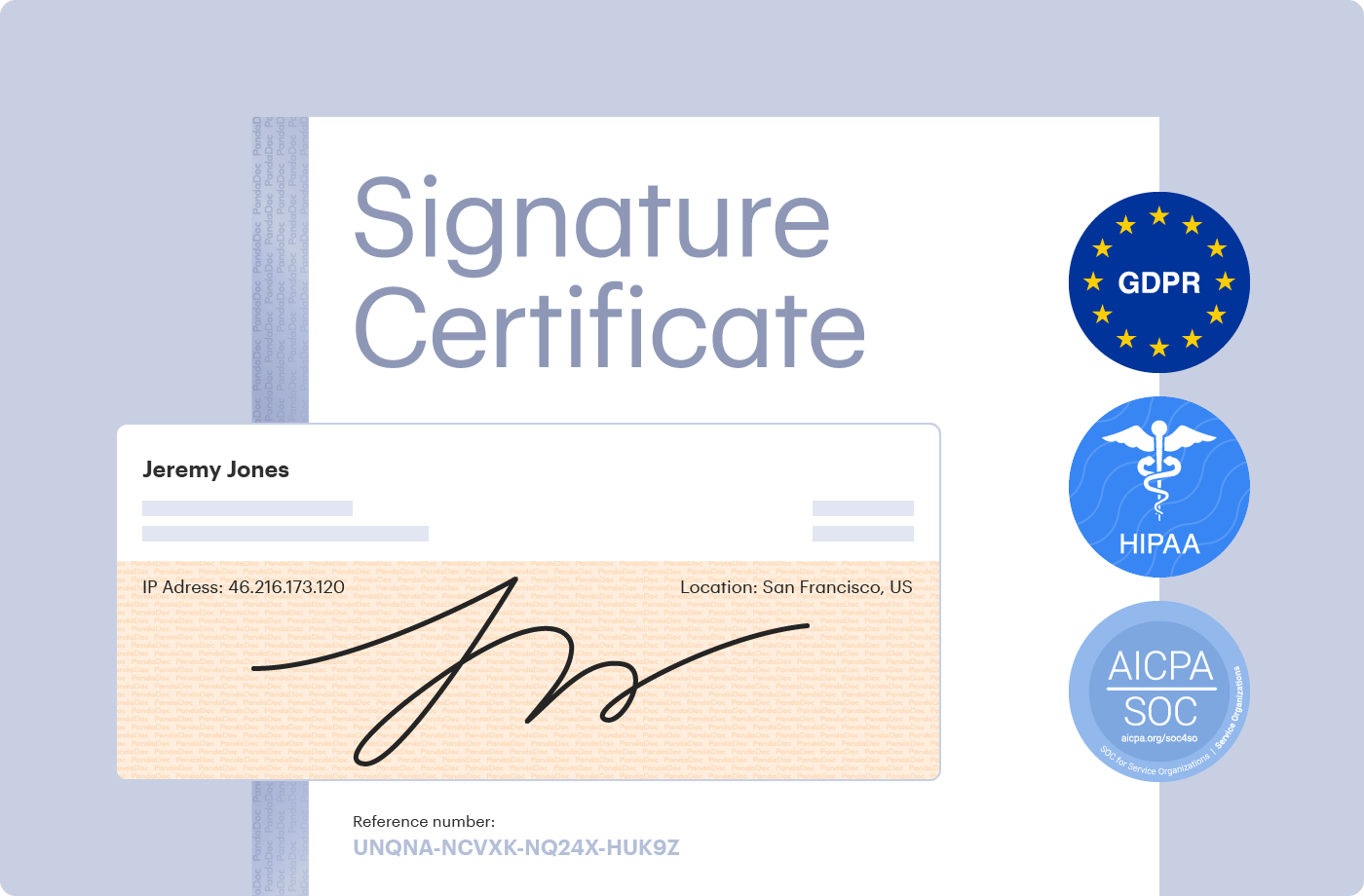 Legally binding eSignatures
Enjoy complete peace of mind that your electronically signed waivers will be just as legally valid as a wet ink signature on paper — the process will just be faster and easier!
Process multiple documents
Save your customers valuable time with the ability to serve multiple documents at once during the signing process.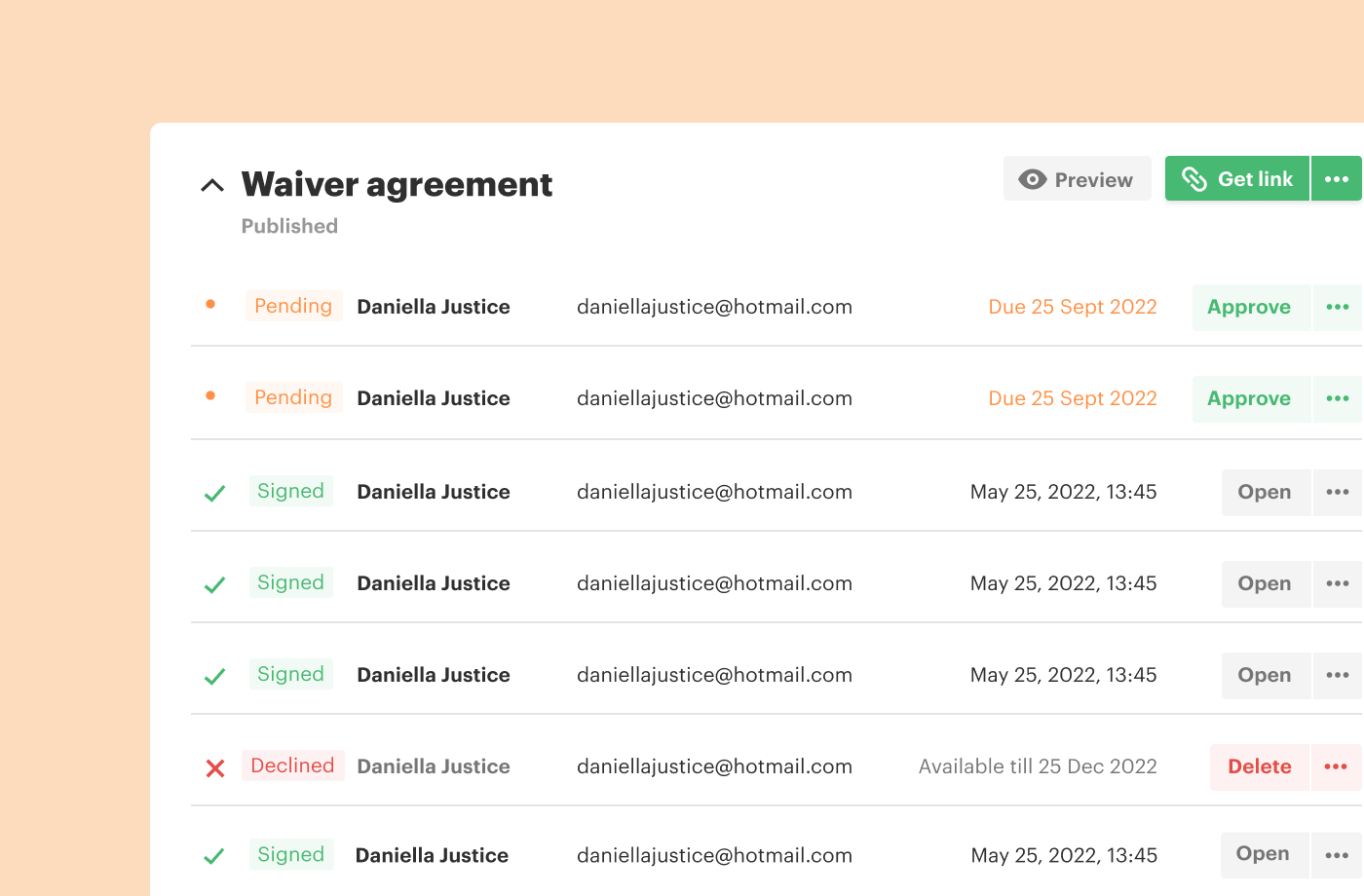 Store your waivers and download as needed
Store as many waivers as you need in the cloud and then download PDF versions that come with a signed certificate.
Seamlessly build waiver forms
Just upload your file and then drag and drop fillable fields as desired to quickly create your custom waiver form.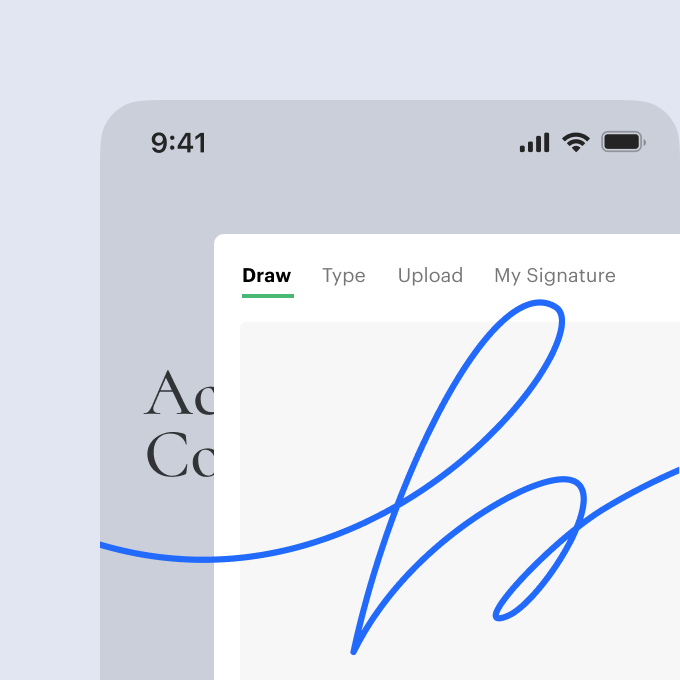 Streamlined signature collection
Make signature collection easier by embedding your waiver onto your website, sharing the link as needed, or having customers sign in person at events.
A simple waiver tool for all kinds of businesses
PandaDoc Waivers is a full-service waiver tool that enables businesses to go completely paperless as they create, share, and collect their digital waiver forms.
Create your digital waiver template
Begin by uploading your waiver. Then, simply add fillable fields for your customers to fill in and publish the template so it's ready for use.
Embed on your website or share via link
Invite your customers to sign in-person via a compatible device or kiosk, embed the waiver form on your website, or just share the link and let your customers do the rest.
Collect forms effortlessly
Rest easy knowing all of your signed waivers will end up in one centralized, secure location that you can access at any point to review waivers and ensure compliance.
Frequently asked questions
What is a liability waiver?
A liability waiver is meant to legally release one party from any damages that may potentially occur to the other party, who signs the general release of liability form. PandaDoc Waiver offers a release from liability template for free among other available templates.
When should a liability waiver be signed?
A liability waiver form or release of responsibility form is typically signed before a potentially dangerous activity such as skydiving, bungee jumping, martial arts training, white water rafting, etc. If you run a business with the potential for injury or loss, it's highly recommend that you have a standard release of liability letter ready for use. With PandaDoc Waivers, you can create a custom liability waiver that's right for your purposes.
What is the purpose of a release of liability?
A release of liability is an agreement between two parties where one party acknowledges the risk of a specific activity and waives their right to sue the other party for any injuries or losses that may occur. These types of legal agreements are common when there's an element of risk associated with health, finances, or property. You can create a release of liability online using PandaDoc Waivers.
What are the different types of waiver?
The three primary categories of waivers, especially in the United States, are procedural rights, criminal rights, and liability waivers. Within each of these three categories are countless waivers for individual use cases. Whether you need to create a liability release template, personal trainer waiver form, medical waiver forms, a homeowner liability waiver form, a sample waiver of liability, or a car accident release of liability form, you can use PandaDoc Waivers to get the job done.
Do liability waivers matter?
Even a generic liability release form can act as a strong legal protection for a business if it's well-drafted using the right tools. If an injury occurs as a result of ordinary negligence, then it's possible a simple liability waiver could fully protect the responsible party. If it's a case of gross negligence, the liability waiver might not offer full protection. Regardless, it's best practice to have a liability waiver in place, and you can create a waiver of liability form free today using PandaDoc Waivers.
Start your free PandaDoc trial
Want to create, track, and eSign all your documents in one place? PandaDoc automates your document workflow while offering real-time collaboration, detailed document analytics, and much more.